JIM MEHRER'S POSTAL HISTORY
REFERENCE LITERATURE:
Canadian POSTAL HISTORY
Post Offices by Province, Military Postmarks, Imperial Machine Cancels

Below is a list of Canadian Postal History Reference Literature that we currently have available. With these references, collectors and dealers can identify and evaluate thousands of different postmarks.

Most of these books are regular stock items, but some are available in limited quantities. As an example, the total printing of my Illinois Post Offices book was 418 copies. More than two-thirds of those have been sold since it was published in February, 1996, and I do not plan to reprint it. Such limited-edition titles are often difficult to obtain once the original printing is sold out.

PUBLISHERS: If you have any reference literature that you would like to make available through this page, please email

mehrer@postal-history.com , call or write to discuss terms.

DEALERS: If you would like to stock any of the literature that we publish (those showing Jim Mehrer as the author), we give generous wholesale discounts at low quantities.
Email

mehrer@postal-history.com, call or write for details.

ORDERING INFORMATION:
We accept payment by check or money order in U.S. funds.
Before the price of each item is a 6-digit item number. When ordering, please indicate the item number and a few words from the title.
To place orders by regular mail, send your check or money order (in U.S. funds) payable to:
Jim Mehrer
2405-30th Street
Rock Island, IL 61201
USA
ALL BOOKS ARE PRICED POSTPAID to U.S. addresses.
ILLINOIS RESIDENTS: Add 8.5% state sales tax to your order.
INTERNATIONAL ORDERS: Before ordering, please email us for the shipping charge.
We do not accept CHARGE CARDS, and HERE'S WHY: Card companies would take about 5 percent off the top of whatever we sold. We don't feel like giving it to them, and we would rather not raise all of our prices just for the sake of handling charge cards. (Before you write and tell us that we can negotiate a better deal than 5 percent, we know that. But whether it's 3 or 4 or 5 percent, we still don't feel like raising the prices to "cover" it, as they say.) We were accepting payments through an online payment service for awhile, but then they started charging for their services, too. Maybe things will change someday.
We regret that we're unable to send "bill with" orders, but that just adds to the paperwork, and we've got plenty to do without the extra load. Exceptions: If you're a long-time customer of ours, and you're experiencing some kind of major "reference literature emergency" that won't allow you to wait a couple of extra days, give us a phone call (309 / 786-6539) and we'll discuss the possibilities.
---
Canadian Provinces
POSTAL HISTORY REFERENCE LITERATURE
---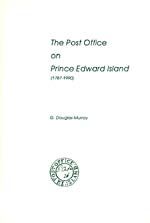 The Post Office on Prince Edward Island (1787-1990). (G. Douglas Murray/1990): Brief history of mail service in Canada's smallest province plus listings of all post offices, open and close dates, rarity factors and many notes for each town. (82 pages.)
Hardbound: #760110. $39.00.
Softbound: #760111. $29.00.
__________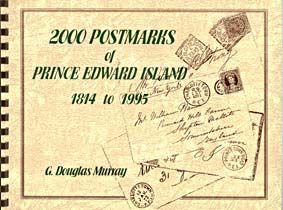 2000 Postmarks of Prince Edward Island: 1814-1995. (G. Douglas Murray/1996): Well researched with many illustrations recording all known cancellations used in this province. On the odd numbered pages are the post office names, the period of opening, descriptions of the markings with proof date and early and late dates (if available). The even facing pages show the postmarks themselves. (217 pages; comb bound.) #760108. $49.00.
__________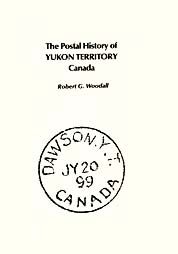 The Postal History of Yukon Territory, Canada. (Robert G. Woodall/1976): This comprehensive work is in four parts. In the six chapters of Part 1, the history of the Yukon from 1843 to the Klondike Discovery (1897) is related and the various postal services described. Part 2 (seven chapters) covers the Gold Rush period of 1897 to 1900 which brought about an increase and improvement of the postal services available in the territory. These included private expresses and even carrier pigeon post, although the known Pigeon Mail items are all $1 and $2 stamps of unproven authenticity. The final chapter of Part 2 lists and illustrates Canadian post offices and postmarks to 1900. Part 3, The Twentieth Century, is the largest part of the book and devotes separate chapters to such topics as the winter mails between Dawson and Whitehorse, Dawson and Fort McPherson; the development of air mail services; the Alcan and Canol Roads and Canol Pipeline; among others. The final part is The Catalogue, a combined check list of Yukon postmarks and gazetteer of those places which have had a post office at some time. Only the main types of postmarks are catalogued and coded, with accompanying valuations. (The unit of value is about 50 pence.) The book concludes with an index which is illustrated with 1 halftone and 3 line maps, 12 pages of postmarks and 50 halftones of covers, postcards, letters and photographs. This is a book that Yukon collectors and postal historians will need and general collectors and northern Canada devotees will want to read for the interesting account of the history of the Yukon. Quarterman Reprint of the original 1964 edition. (267 pages; hardbound.) #760109. $54.00.
__________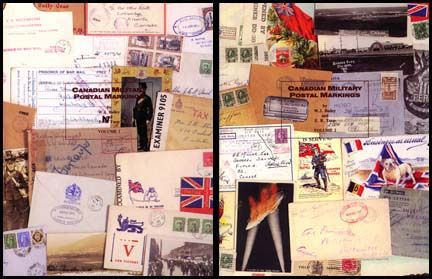 Canadian Military Postal Markings. (W.J. Bailey & E.R. Toop/1996): Final Canadian Military Postal History book by these writers, a massive work in two softbound volumes with multi-color cover & slip case. (872 pages; softbound.) #760106. $110.00.
__________
Imperial Mail Marking Machines in Canada. (Robert J. Payne/2003): Illustrates and describes the Canadian flag cancels and other types attributable to the Imperial Mail Marking Machine Company. Complete listings of earliest and latest known usages for all known types, many which are scarcely seen. (64 pages; unbound.) #750603. $24.00.
---
ALL BOOKS ARE PRICED POSTPAID to U.S. addresses.
ILLINOIS RESIDENTS: Add 8.5% state sales tax to your order.
INTERNATIONAL ORDERS: Before ordering, please email us for the shipping charge.
See ORDERING INFORMATION at the top of this page by clicking here.
To return to the Main Literature Page, click here.


---
To view our Mail Bid Sale catalog, click here.
To go to our Postal History Net Price List, click here.
To see our list of Supplies for Collectors, click here.
For information about consigning material for our Mail Bid Sales, click here.
To see our Show Calendar for Collectors of Stamps, Postal History and Postcards, click here.
To see our Postcard Net Price List click here.
To see our Old-Time Postmark Calendar click here.
To go to our Phone Card page click here.
To return to our Home Page, click here.

---
Comments? Questions? Email us at

mehrer@postal-history.com
Visitor counter provided by http://www.digits.com/:
Note: this counter is occasionally reset due to change of programs or other reasons. For the record: from June 25, 1996, to February 27, 1998, more than 25,000 visitors accessed our site.

©2003 Jim Mehrer. REPRODUCTION OF THE CONTENTS OF THIS PAGE, IN PART OR WHOLE, IS EXPRESSLY PROHIBITED.

---