*
* POSTCARDS ** POSTCARDS *


Mary L. Martin Ltd.
Postcards & Supplies
230-232 North Washington
Havre de Grace, MD 21078
USA

Phone: (410) 939-0999

Email: sales@marylmartin.com

We offer postcards on approval.
- Mail or email your want list to us.
- We will send cards requested on approval to you, with each card priced and listed on an invoice.
- Make your selection and return unwanted cards, with a check for cards kept, plus UPS charges.

OR...
- If you prefer, we will send you photocopies of the cards, and you tell us which ones you want to see on approval.

It's that easy!
WE SPECIALIZE IN...
State Views, Signed Artists, Sports, Transportation, Political, Halloween, Santas, and HUNDREDS of other topics.
We have one of the largest postcard inventories in the world, with more than 1,000,000 cards in stock at all times. When in the Havre de Grace, MD, area, visit our shop inside the Bayside Antiques building!

Above: our warehouse in Perryville, Maryland.
---
We offer a broad line of sleeves, boxes, category dividers, and other supplies for collectors and dealers.
Also, check out our schedule of upcoming Postcard Shows.
WHEN YOU CONTACT US, PLEASE MENTION THAT YOU FOUND US ON JIM MEHRER'S POSTAL HISTORY WEB SITE.
We have built our reputation on honesty, integrity and expertise in our field. Try our service. You'll be glad you did!


Mary Russell with son Joey at York, Pa (1998 and 2015).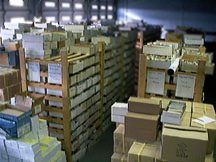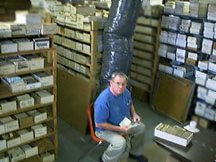 Bill Martin sorts cards in the warehouse. (1998)
---
WHAT ARE YOU WAITING FOR?

Above: Eager collectors from around the world await the opening of our postcard show in York, Pennsylvania.


LINK: To go to Jim Mehrer's Postal History site, click HERE.

To return to the Showcase Dealers list, click HERE.




©2021 Jim Mehrer . REPRODUCTION OF THE CONTENTS OF THIS PAGE, IN PART OR WHOLE, IS EXPRESSLY PROHIBITED.
This site was created and launched by Jim Mehrer. I can create a web site for you. For information about my service, please Email me at mehrer@postal-history.com.
070198/093098